Cahir & Company Solicitors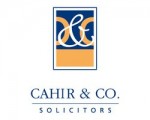 The firm of Cahir & Co., solicitors has been established for in excess of thirty six years and prides itself on delivering a personal and professional service at all times. We are a family firm with extensive expertise ensuring that the best legal advice is given at all times. We deliver successful results to our clients.
The combined skill and experience of our solicitors and administrative staff ensures that we provide the highest quality of legal services to a broad range of clients on a local, regional and national basis.
We have an established client base in the commercial and private sector. We pride ourselves on receiving referrals from our clients who are happy to recommend us to their friends, family and colleagues on the basis of the service that they have received.
Our focus on the use of technology delivers an efficient and professional service to our clients.
Being a long established firm we are proud of our history, and yet are focused squarely on the challenges and opportunities of the future.